DIRECTOR
Dr. Brij Mohan Singh graduated in Computer Science & Engineering Discipline from College of Engineering Roorkee (COER) in the year 2003. He completed his M.Tech. (CSE) in 2007 and Ph.D from Uttarakhand Technical University, Dehradun in April 2012 on the title "Text Extraction in Degraded and Stylistic Documents". He has published more than 25 research papers in International Journals such as Document Analysis and Recognition-Springer, CSI Transactions on ICT-Springer, IJIG-WroldScintific, IJCSE, IJMECS, EURASIP Journal on Image and Video Processing etc. He has also published 18 Research papers in reputed International and National Conferences. His research areas are Digital Image Processing,Pattern Recognition, Machine and Deep Learning. He has guided 3 Ph.D Thesis of UTU Dehradun and Currently 6 are in process. He is currently guiding research scholars in Machine & Deep Learning, Unusual Event Detection, Video Surveillance, Internet of Thing (IoT) and Data science areas. He has published more than 06 patents. He is IBM certified in Big Data and Business Intelligence. He is also CCNA certified. He has joined College of Engineering Roorkee as Assistant Professor in Computer Science & Engineering Department in Jan 24, 2005. He promoted as HoD-IT in Aug 2014, Dean (C&D) in Aug 2017, Dean (Academics) in July 2018. He is currently promoted to Director(COER) in July 2020. He has 16 Years of Experience of Teaching in COER and total teaching experience is 18 Years.
DEAN (BASIC SCIENCES & HUMANITIES)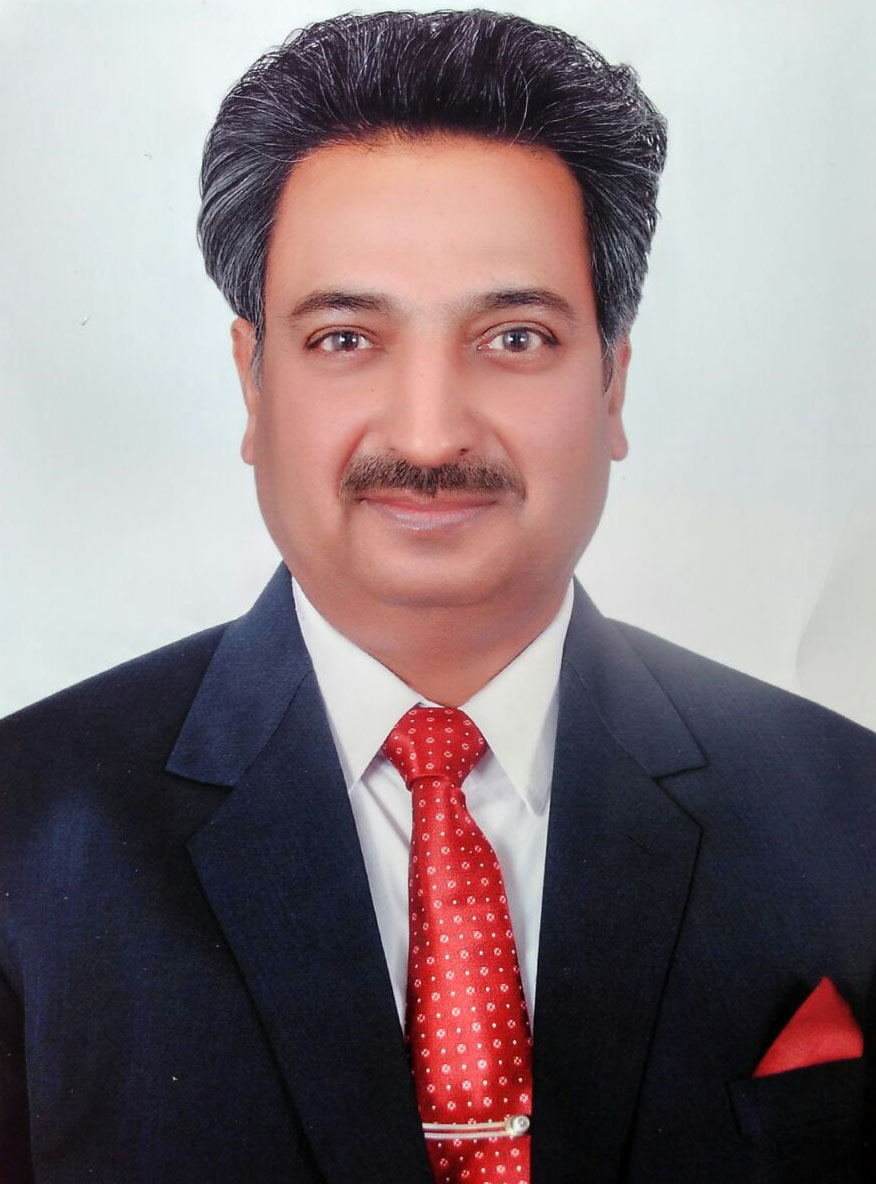 Dr. D.V. Gupta, Dean (Basic Sciences & Humanities) and Professor & Head- Department of Mathematics, joined COER as one of its founder faculties on July 01, 1999. He has been serving COER in different capacities for more than 20 years. He possesses strong academic foundations- Ph.D. in Mathematics (1991) & M.Sc. (Applied Mathematics) both from University of Roorkee (presently IIT Roorkee). He has published more than 45 Research Papers in International/ National Journals/Conferences and also written several other articles. He has also authored 3 books on Engineering Mathematics. Presently 8 students are pursuing Ph.D. programme under his guidance and supervision and one candidate has been awarded Ph.D degree from HNB Garhwal University Srinagar. Being a National Scholarship holder and an awardee of multiple awards including 'Motivation Award' 8 times for 100% result in Mathematics at COER, Dr. Gupta has a proven excellence in the field of research and teaching. Dr. Gupta possesses an optimum blend of experiences- teaching to engineering students, administrative experience along with coordination of students' activities for the development and growth of young minds. As Dean Dr. Gupta, with his charged attitude, envisions success and development of the departments, and hence COER. He always focuses on the foundations of educational system; like imparting quality education, transfer of knowledge to students, improving communication skills, adhering to attendance policies, maintaining best work ethics within departments, upholding cordial faculty-student relations, and thus enhancing overall positive work environment. Prior to joining COER on July 01, 1999, Dr Gupta has worked in Adarsh Bal Niketan, Senior Secondary School, IIT Campus Roorkee in the capacity of Lecturer, Vice-Principal & Principal for about 12 years. Thus Dr. Gupta has a total teaching experience of his subjects to graduate & postgraduate students for more than 32 years. He urges students to recall the efforts made by great men who reached the pinnacle of success and inspires them by sharing this quote- "Heights by great men reached and kept were not attained by a sudden flight but they while their companions slept were toiling day and night." "ARISE, AWAKE AND STOP NOT TILL THE GOAL IS REACHED." - SWAMI VIVEKANANDA
DEAN STUDENT WELFARE
Dr. Vinod Kumar Singh, obtained his Ph.D. degree in Chemistry from Banaras Hindu University, Varanasi in 1997 and did Post Graduate Diploma in Computer Application in 1991. He got BHU Research Scholarship; JRF and SRF of MOE&F, Govt of India, New Delhi. Later, he got SRF and Research Associate ship of CSIR, New Delhi for carrying out research project based on Radiotracer Technique. He had worked extensively for removal of heavy metals and radiotoxic ions from aqueous solution/water/wastewater using Radiotracer Technique. He has 38 research papers to his credit out of which 14 research papers in referred International Journals published from Great Britain, Germany and Hungary; 24 papers published in proceedings of International and National conferences. Prof. Singh had attended 5 workshops in his area of interest in BHU and IITs. He had delivered five invited talks. Prof. Singh has been associated as Mentor in Chemistry for the initiative of Dept of Science and Technology, New Delhi towards innovation in Science Pursuit for Inspired Research: INSPIRE Internship Program. He is Life Member of National Environmental Science Academy (NESA), New Delhi. He has contributed as Subject Expert for video lectures on Chemistry and Industrial Chemistry based on the UGC Model syllabus, for noble initiative of MHRD, Government of India under the plan project of National Mission on Education through ICT(NME-ICT) through Consortium of Education Communication (CEC), New Delhi. Prof. Singh has completed e-content courseware in 13 educational programs in Chemistry and 11 in Industrial Chemistry for B.Sc. program to bridge knowledge and information gap through e-learning.
DEAN RESEARCH
Dr Siddharth Jain is an adaptable and responsible researcher who aspires to become a world leader in the area of energy systems and contribute to the development of energy pathways which are sustainable and environment-friendly. Dr Siddharth Jain undergraduate training has been predominantly in the area of mechanical engineering. He pursued his master's and doctoral degree focusing on Biomass and Bioenergy from Indian Institute of Technology Roorkee, India. His PhD research involved various aspects of biodiesel production from sources which are renewable, non-food crops and have lower environmental footprints. Apart from the production process he contributed in the stabilization of biodiesel properties with respect to time. After PhD, he did his two Post Doctoral Fellowships from National University of Singapore and University of Alberta in the area of biomass and Bioenergy. During his PhD, he had gotten offer from National University of Singapore for Post Doctoral Fellowship. This program was a major collaboration between Shanghai Jiao Tong University (SJTU), one of the leading universities in China, and National University of Singapore (NUS). This was supported under the Campus for Research Excellence and Technological Enterprise (CREATE) framework to study sustainable solutions for coupled problems targeted at already-stressed megacities and serve as inputs for strategic policy making and near real-time environmental monitoring and response. He has done 2nd post doctoral fellowship from University of Alberta. There his work was focused in the area of integrated energy and environmental modeling, techno-economic assessment of energy systems, GIS mapping of biomass. His research area is basically focusing on non-conventional sources of energy. He joined College of Engineering Roorkee in 2012. Currently he is working as Dean Research and Professor in the Department of Mechanical Engineering. During his duration in College of Engineering Roorkee, he is doing research in the area of low temperature transesterification of algal biomass. He has Published more than 60 papers in International SCI publications and authored many books and book chapters for Springer, Elsevier, CRC etc. He also get invited by many IITs and NITs such as IIT Jodhpur, NIT Bhopal NIT Kurukshetra, Gurukul Kangadi etc for guest lecture and FDPs. Apart from this he attended around 40 International Conferences and published 3 patents.
DEAN COMPUTING
Dr. Sagar Gulati is an astute & result oriented professional with over a decade of experience in Academics & Research, Policy Formulation and Execution, Academic Administration and Control, Projects Management, Resources Optimization, Business Development. He is dedicated, resourceful and innovative educationist with rich academic and administrative experience, with thorough understanding of education systems and latest technological innovations in the fields of education technology. His proven ability to link long-range vision and concepts to day-to-day operational activities distinguishes him from his peers. His passion for understanding the most appropriate uses of technology for effective learning is praiseworthy. Presently, He is Dean Computing at College of Engineering Roorkee; He has been Director, Technology Education & Research Integrated Institutions Kurukshetra and Head TERii Technology Business Incubator, recognized by Ministry of MSME, Govt. of India. He is also Country Representative – India, for Lincoln University College, Malaysia; He is also in the Board of Governors with Inventivepreneur Chamber of Commerce & Industry, New Delhi; and Member, Board of Advisors, IREU Universe, Bangalore. He has recently been inducted in Beat the Virus Start-up in capacity of Strategic Advisor. He has also collaborated with International American University California USA and YorkVille University Toronto Canada to run Pathway programmes in BBA specialization. Also, He has recently associated with Warnborough College (UK) as Student Recruitment Advisor. In September 2020, He has been awarded with Eminent Engineering Personality Award by Institution of Engineers (India).
DEAN ACADEMICS
Dr. Kamal Kapoor Professor & Head (Physics) did his M. Sc. degree in Physics and M. Phil. Degree in Instrumentation from University of Roorkee (IIT Roorkee presently). He obtained his Ph. D. degree in Condensed Matter Physics. Dr. Kapoor joined this institute in 2001 and was raised from the position of lecturer to professor. He has 21 years of teaching experience in his credit. He has also published a good number of research papers in journals of national and international repute. His areas of research are condensed matter physics and sensor-based measurement. Dr. Kapoor also has 3.5 years of research experience working in a research project funded by the Department of Science & Technology, Govt. of India at Earthquake Engineering Department, IIT Roorkee. He has vast experience of conducting university and entrance examinations of national repute in offline as well as in online mode. He is also holding the position of Controller of Examinations of the institute presently. Dr. Kapoor has the perfect balance of theory and practical knowledge which enables him to be a wonderful teacher and an effective professional. As a faculty member, he has excellent coordination with students and convener of the technical committee of the College of Engineering Roorkee 'Disha' since 2010. To promote the technological and engineering know-how and hands-on experience, he also initiated the establishment of The Robotics and Innovation Club (TRAIC) of COER. Dr. Kapoor with his wide experience in Academic field agrees "Learning is a treasure that will follow its owner everywhere." Rich with the knowledge and experience, he has the charm that can easily inspire on, an ability to guide and qualities that command instant respect.