SECTION 1
OBJECTIVES OF RESEARCH IN THE INSTITUTION
Research and Development (R&D) activities are the backbone of academic life of any Institute of higher education. The initiatives of College of Engineering Roorkee are always in line with this objective. The basic aim has been to pursue knowledge through various programs for developing highly skilled technical manpower. The College of Engineering Roorkee has research programs aimed at advancing knowledge, improve our world, and shape the future.
Multi-disciplinary research is key to our research vision and strategy to address the diverse, complex and demanding problems of today's society. Research activities are conducted collaboratively in our Expert Research Groups and in the College funded Centers of Excellence. Much of our research activities are sponsored by Government research funding as well as industries and help in strengthening the Undergraduate and Postgraduate Research Programs. We have close collaborations with other research and academic institutes across the globe and host research visitors from throughout the world. With this, the College of Engineering Roorkee is focusing on following objectives:
To create a favorable research environment.
To provide support and facilities to students and faculty members for the enhancement of their research potential.
To encourage students to do research internship in Indian and foreign universities.
To encourage faculty members to work on sponsored research projects and industrial consultancy projects.
To encourage the faculty members and students for publishing papers in international journals and conferences.
To encourage the students and faculty members for filing patents.
To organize research based events such as conferences, workshops and guest lectures based on recent technological development.
To enhance the knowledge and exposure of students and faculty members by collaborating with top international universities/ organizations.
SECTION 2
COER RESEARCH CELL
The research activities outlined in Section 1, are carried out in a structured manner and continuously monitored by COER Research Cell (CRC). The overall incharge of the CRC is Dr. Siddharth Jain, Associate Professor, Department of Mechanical Engineering. The research activities are coordinated by a group of faculty members as Coordinators and Advisors.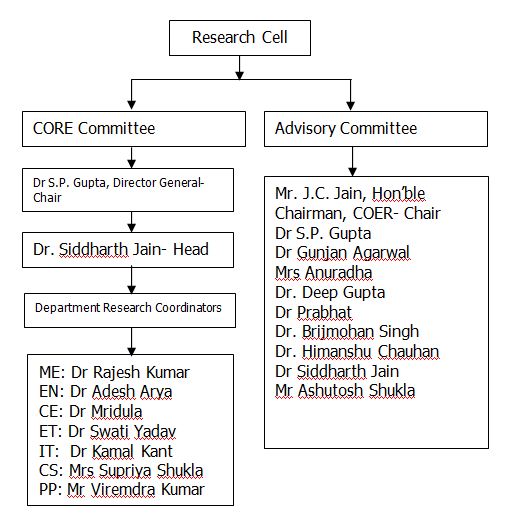 SECTION 3
QUALITY POLICY AND PRACTICES OF THE RESEARCH CELL
Roles and Responsibilities
Department coordinators are responsible for coordinating the research activities of their departments like Final Year Projects, Consultancy projects, research based projects etc.
Coordinators are required to maintain proper documentation of all the activities related to their respective departments
Core committee is the review committee, responsible for reviewing the progress of research of each department periodically.
Each month there will be a progress meeting of department coordinators with Core committee.
B.Tech and M.Tech Final Year Projects (FYP) - Guidelines and rules for FYP
All activities related to final year projects will come under Research Cell.
There shall be a departmental project coordinator who will be responsible for all FYP activities within the department.
Department project coordinator has to discuss monthly with Departmental Research Coordinator.
Each project group supervisor has to report to their respective Department Research Coordinator once in a month.
Each supervisor has to meet to their project group students weekly.
Each semester one progress presentation will be done.
Performa of each meeting will be maintained
The projects should be decided based on existing college facilities.
Each project should lead to publication of at least one paper (review/ application based/ research based) in a conference/ Scopus Journal.
There will be 50 marks in FYP for paper publication in conference/ Scopus Journal.
Synopsys, project report and other documents formats will be strictly followed.
Deserving projects will get funds from Research Cell and will be governed by terms and conditions. This will be the responsibility of guides and their project group members to make necessary documentation for the same.
Any project that will be done in College will be the property of the College and all the rights will remain with the College.
Any modification at department level should be informed to the Department Research Coordinator. The research cell has the right to accept those changes or not.
The contributors of SCI published papers and patents will get a prize.
Each paper published in SCI Journal having impact factor more than 1.0 will get a cash incentive.
Deserving FYPs will be enrolled for patent and a part of patent fee will be reimbursed by the College.
All the group project of final year students are taker care by research cell for the future archival
The guidelines of FYP shall be subject to further modification in future.
SECTION 4
CODE OF ETHICS & PLAGIARISM
Ethics and plagiarism are the significant components of the research and publication. Sometimes it is observed that researchers claim others work as their own, which will degrade the reputation of the institution. In view of this
A research committee/cell has been formed comprising of the faculty members who are holding Doctoral degree in the institute to assess the faculty researcher / PG student who produce their work in the form of Research Publication / Research Proposal / Thesis Work (PG)/ Project Report.
Especially the research work of the faculty / PG student in the form of journal paper / projects must go through the process of plagiarism check and has to maintain high academic standards.
Apart from this, the committee takes extra measures to ensure that the work is in accordance with the national/international standards.
The Project Guides and Scholars are asked to use the software for which access is provided by UTU, Dehradun for detecting the plagiarism. All faculty/student researchers seeking for journal paper submission are requested to submit the plagiarism report (maximum allowed limit 20%) to the committee for review.
Any violation of the rule and other issue, complaints regarding plagiarism attracts disciplinary action to be imposed by committee. Such scholars shall be asked to submit a revised document within a stipulated time not exceeding 3 months or as decided by the committee.
Plagiarism Checker Softwarehttps://www.turnitin.com/login_page.asp?err=3400&lang=en_us