Committees & Clubs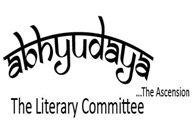 "Spread your wings & ascend towards the zenith."
True to its name
Abhyudaya- the Ascension
through concerted efforts to build the overall personality of a student, assists and guides them to achieve excellence in their respective fields. Thus, providing them the confidence to spread their wings and ascend towards the zenith. This development prepares them for the competition ahead, emanating confidence and knowledge, they need for facing the world. One of primary motives of this committee is to bring about general awareness in the COERians about everything that's happening around them. It promises to cultivate a passion for Debating, Creative Writing, Literature, Elocution, Quizzing, etc. among the students. Literary committee not only commits itself to the English language but also discovers new vistas of our mother tongue- Hindi.
CONVENER AND MEMBER
Any faculty member working in COER with enough experience of guiding and motivating the students and interest in literary activities shall be recommended as convener and co-convener by the Director/ Director General.
The Convener shall take overall responsibility of the committee.
The Convener of The Literary Committee shall invite applications at the time of commencement of the session from the interested students enrolled in COER.
The Convener of The Literary Committee shall organize interviews of such students for selection as members.
Maximum 25 students of current semester can be selected as member of The Literary Committee.
Student Volunteers enrolled in COER may be selected to organize any event, if needed.
The membership of the student will be on annual basis and shall terminate with end of the session.
Convener shall be responsible for organizing events (with the help of student members) and declaration of results.
Convener will constitute the groups of student members for publication of MUCUR- the annual college magazine to take associated responsibility.
Convener will get essential inputs from the Director/Director General and give proper feedback/progress report of all the activities and events organized with his/her permission in campus.
GOAL
To develop confidence in speaking which can further develop confidence and desire to participate in all academic classes.
To develop excellent oral- written communication and presentation skills.
To sharpen the logical and critical thinking skills.
To prepare students to think spontaneously and to eliminate fears of public speaking.
To produce efficient communicators for the society.
AIMS AND OBJECTIVES
To promote and encourage literary and debating activities among the students.
To develop and improve positive habits like reading and analyzing.
To unveil the writing skills of technical students, to awaken the imagination and creative thinking in the them.
To make students think over the topics of social and political relevance and be assertive about their take on different aspects of world through
To develop their logical reasoning, listening, enduring powers, expressing and sharing, dealing with oppositions and finding a consensus through the Group Discussion.
To organize literary and debating events, and encourage participation in various events outside the campus.
To develop organizational and persuasive skills in students.
To organize events like-
 Hindi
: Kavi Sammelan, Vaad Vivaad Pratiyogita, Kahani Likho Pratiyogita,  Vyang ke Rang, and
 English
: EAT- the English Ability Test, War of Words- the Group Discussion, Stutter Bug- Debate Competition, Contra-positive, PIXIT- the Picture Perception Test, Novelophelia etc.
To organize any other event, if authorized by the Director/ Director General/ Vice-Chancellor and such event shall be taken as activity under literary and debating event.
'MUCUR' – The Annual COER Magazine
 "MUCUR", paraphrasing its meaning strives to provide a kaleidoscopic view of the COER and the COERians.  Students are selected from Literary Committee to constitute the Editorial Board, Designing group, Graphic experts group, Cover Page design group with the vision and thoughts to present totally new face to the MUCUR. The magazine not only focuses on any specific area but is broadly loved by people with vivid tastes, be it professor or merit scholars interested in technical update or students interested in college gossips. The magazine is a perfect amalgamation of all kinds of interests and literatures, be it the mother tongue Hindi or the connecting language English.
The magazine is available on COER website too.
LIST OF WINNERS  SESSION 2021-22
| | | |
| --- | --- | --- |
| EVENTS | DATES | WINNERS |
| Essay Writing Competition |  06 September 2021 | 1 st Position Ms Ishika Agarwal, B. Tech 1 st Year IT          2 nd Position Lakshika, BCA 1 st Year                                               3 rd Position Ms Madhvi Garg, B. Tech 2 nd Year CS |
| Kavi Sammelan |  01 October 2021. | 1 st Position Mr Pushkal Jain, B. Tech. 3 rd Year IT 2 nd Position  Ms Aditi Singh, B. Tech. 2 nd Year CS 3 rd Position up- Mr Saurav Kumar, B. Tech. 3 rd Year ME |
| Story  Writing Competition | 25 October 2021 | 1 st Position Akanksha Raj, B.Sc. Ag. 1 st Year 2 nd Position  Ms Ayushi, BCA 1 st Year 3 rd Position Rahul Joshi, B. Tech 1st Year IT |
| English Ability Test (E.A.T.) | 26 October 2021 | 1 st Position  Mr Ankur Singh, B Tech 2 nd Year IT               2 nd Position  Mr Anubhav Gusain, B.Tech 1 st Year IT      3 rd Position Tushar Shrivastava, B.Tech 3 rd Year CS Divyanshi Kukreti, B.Tech 1st Year CE |
Literary Committee Report
DISHA-The TECHNICAL COMMITTEE
The technical committee, christened 'Disha' came into being, entrusted with the task of providing a stable platform to the young COERians to provide a tangible shape to their ideas. Disha officially came into force during the session 2004-05. Disha is entrusted with the responsibility of organizing Manthan, the Annual Inter College Techno-Management Fest of our college and a number of competitions catering to the aptitude and taste of almost every student.The Technical Committee of the college is continuously associated with organizing different technical events throughout the year for the benefit of the students. Through its numerous competitions 'Disha' made an earnest endeavor to draw out the hidden skills of COERians, be it in displaying their expertise in quizzing or their aptitude for brush and palette or their appetite for science fiction. Presently there are 27 student members in the committee. Dr. Kamal Kapoor, Professor, Physics Department is the Convener of Disha.
Manthan- The Inter College Techno-Management Fest
The word 'Manthan' itself speaks volumes. The proverbial 'SAMUDRA MANTHAN' yielded the elixir upon the churning of sea, leaving venom behind. Manthan is an attempt to draw out the finest skills, crème – de – la – crème talents, the matchless potentials from the enthusiastic COERians. Manthan, the Annual Inter College Techno Management Festival of College of Engineering Roorkee is a unique forum where the young minds get an opportunity to experience and interact with science and technology and management in all its myriad forms.It aims to provide a welcome change from the treadmill of rote learning and above all fairly groom students to accept similar changes when they actually step into the world of professionalism. A cradle for new and grand ideas, it is ever-evolving and diversifying to act as catalyst for instilling the passion for technology and the zeal to turn abstract ideas into concrete realities. Manthan embroils with itself a number of technical and Management events to fulfill the aim it has marked, the various technical and management events can be categorized as:GIGABIT, CODEX, PIONEER, BLITZKRIEG, KURUKSHETRA, PRAYOG, KOUIZ, UDBHAVA, ROBOSYNC, SHAURYA, SERIO-GEEK, BRIDGE IT, CAD CONTEST
Aakriti: The Clay Modelling Event
Aakriti, the clay modeling event which is anticipated with the huge participation of above 180 teams, as it is one of the mass appeasing fun-filled event organized by Disha, The Technical committee. The models are based on predefined themes such as Entertainment, Aliens vs Humans, War of Smart phones, India emerging as a sports power, India- a democratic country with no democratic values, etc. The teams presents their zeal, ingenuity, creativity and perception of the themes through clay, bamboo sticks and pebbles. The event shoots a wide success as a part of the 'Disha' legacy.
Compendio: The Collage Making Contest 
Compendio, COER's very own version of the collage making, is a feather on the hat of success of the Technical committee. With over 200 team registrations, Compendio shoots the brain flexing challenge of designing a collage using two newspapers, which is meticulously accomplished through the acumen of the winning teams.
COER APTITUDE TEST (C.A.T)
The COER version of C.A.T. is held in the campus which is based on written questionnaire consisting of general aptitude, verbal, reasoning and quantitative questions. The paper set is different for first, second and third year respectively.
Engineer's Day Celebration
On the occasion of Vishwakarma Divas Disha, The Technical Committee of COER celebrates Engineer's day marked by the birthday of our honorable Chairman Mr. J. C. Jain.The celebration includes an exhibition of models portraying the fine creativity of COERians. The models includes that of Aakriti, the clay modeling competition; Compendio, the collage making; models made by The Robotics & Innovation Club and COER chapter of SAE India.With the noble words of respected Chairman Shri J. C. Jain and Managing Director Mr. Shriyansh Jain, the Engineer's day of COER fuels the technical committee to correspond and function even better for its upcoming workshops and other endeavors.
ABOUT
Oorja, the Cultural Committee of College of Engineering Roorkee organizes various cultural events during the academic year, is maintaining the norms of Indian tradition and culture as well touching global diversities. These events are organized keeping in view the students, faculty and management's collective interests of talent.  OORJA proves its metal by scintillating the COER aura with the wonderful events and thrilling performances and we hope to continue this legacy of culture in the upcoming sessions too. During the organization of events, the members of committee avail opportunities of displaying resource management and corporate management skills. The Committee is run under the efficient guidance of theConvener Mr. Akhil Dangwal,whereas Mr. Bhupal Arya is the Co-Convener  and student convener of the committee is Shreeyansh Shrivastava.
EVENTS
FRESHERS' DAY:It is the day to welcome the fresh faces to the COER family. The amazing performances by students prove that our students are all-rounders, good in academics as well as curricular activities.Immediately after the start of the academic year, freshers start dreaming about Freshers' Day, which is celebrated every year in College. The very purpose of Freshers' Day party, is to welcome newcomers in a friendly atmosphere and avoid social evils, to encourage their creative impulses to boost their confidence. Students eagerly look forward to this event at the beginning of every academic year. COER stage welcome  freshers to showcase their talents and compete for the Mr. & Miss. Fresher's Crown.
FOUNDATION DAY CELEBRATIONS:Each year 3rd of December marks the foundation day of COER, which is celebrated with full zest in the college; Oorja organizes the event each year.
INDEPENDENCE/REPUBLIC DAY:The Celebration of Indian Independence on August 15 and Indian Republic on 26 January of every year are our special events.
TEACHERS' DAY:On 5th September we celebrate teachers' day . The whole preparation and decoration is done by the cultural committee. The main purpose of doing this event is to give respect to our teachers who stand with us in every situation. Anyone who wants to show his or her talent can participate in the event. There are many performances like dance, singing, drama and speech etc. Some of them are organized by different dance and music groups of our college.
GANDHI JAYANTI: In order to pay homage to Mahatma Gandhi & Lal Bahadur Shastri , devotional songs & speeches personifying the courage & sacrifices of these leaders are presented by the students during special programmes held in COER auditorium.
DEEPSANDHYA: Each festival is celebrated with full enthusiasm at COER, and so is the festival of lights. DEEPSANDHYA bringslots of astonishing performances, followed by fire-cracker show for the COER students.
ZION: It is 4 days annual cultural fest of the college. This fest comprises of formal as well as informal events. As suggested by the name, it brings great enthusiasm among COERians.It is conducted in mid-April. Formal events consist of Accoustica, the singing competition, Milan Street the fashion show, D-Vibes dance competition, Bucklolz standup comedy, Canvas painting competition, Director's cut, Cinemagic skit competition, Rock e dance band competition,  Mr. and Miss Zion. The informal events are conducted side by side such as football, gully cricket, street battle etc. for the fun of the crowd present during the fest. There are 4 pro nights -Bhangra nights, DJ Night, Band Night and the most awaited Star night.
ZION Report
TEAM
­1st Year
Simran Shukla
Radhika Gupta
SupreetaKumari
Naina Mittal
Naba Er Resool Khan
Shambhavi Ray
Akshat Jain
Suraj kumar
Aditya Raj
Osama Malik
Prashant Kumar
Yash Tamta
Manas Gautam
Shreeyansh Singh
Himanshu Shekhar
GunvardhanMeliyan
Kunal
2nd Year
Shivam Kumar
MayankMaheshwari
Parul Bansal
Abhinav Arya
MadhureyaChaudhary
Sanchita Singh
Anubhav Sharawat
Aayushi Mittal
Aarti Gupta
DixitaRuhela
Fahad Ali
3rd Year

Aditya Singh
Aman Prateek Singh
Ankit Rana
Apoorv
Chhavi Chauhan
Deepak Arya
Gaurav Mishra
Harshit Kandpal
Harsh Chauhan
Hershika Jain
Priyam Prakash
Sheena Bisht
TanujKimari
Tejasav Shah
Vikash Ranjan

4th Year

Abhay Verma
Ain Ul-Haq
Akshita Agarwal
Anugya Chamoli
Ayush Abhimanyu
Deepak Kumar
Diksha Shubhangi
Gauravi Singhal
Harshit Nainwal
HrituparnaSaha
Ritika Bihari
Rohit Saini
Shreeyansh Shrivastava
Coordinator
Bhupal Arya bhupalarya@coer.ac.in Assistant professor CSE DEPARTMENT
Convener
Dr.Nitesh Dutt niteshdutt@coer.ac.in ASSISTANT PROFESSOR ME DEPARTMENT Ms.Richa Sharma richasharma@coer.ac.in Mr.Amit Amitkumar@coer.ac.in
LINKS:
THE LINGUISTIC COMMITTEE
INTRODUCTION
The Linguistic Committee is a constitutive and innate part of COER which is driven by the constant zeal to improve the communication and soft skills of students through various events. The committee is focused to maintain the endeavor and gusto to encompass the English language. By regularly conducting debates, extempore, group discussions etc. and the pen paper tests committee ensure that we make our students aware of the pattern of exams like GRE, GMAT. IELTS. Thus the committee pledges to take care of all students and really appreciate your appetite to learn new things.
Date of Establishment:       
23rd April 2005
Establishment of Committee:    
By Dr. Rashmi Gupta
NOTE BY OUR CONVENOR
Dr. Rashmi Gupta
Dear students, As with the commencement of a new session, you all embark on a new journey, I wish you all the very best that life can offer. I hope the members of "The Linguistic Committee" always continues to share the amiable bond that they possess and may they stand out in all their future endeavors. Face all the upcoming hardships with bravery, skillfully and with a blissful heart. It is and has always been a pleasure being your convenor and working with such beautiful and hardworking souls.
OUR OBJECTIVE :
The Linguistic Committee aims at developing interpersonal and soft skills of the students. We are driven by the motive of personality development and enhancement of communication skills. We also help the students to prepare for the training and placement activities by having events like group discussions and debate.
FESTEXPRESSIONS : OUR ANNUAL FEST
Expressions is an Inter College Annual fest conducted by The Linguistic Committee with the motive of enhancement of communication skills. The Fest gives each student a platform to develop confidence, gain knowledge and stimulate thinking. It also gives a golden opportunity of public speaking thus eliminating stage fear and improving speaking skills. This year the Fest "EXPRESSIONS-22" was organized from 30th march 2022 to 1st April 2022
 Coming together is a beginning. Keeping together
is progress and working together is a success!
EVENTS 1 . FORMAL EVENT 2 . INFORMAL EVENT FORMAL EVENTS
CROSSFIRE
"DON'T HATE, DEBATE FEAR NOT THOSE WHO ARGUE BUT THOSE WHO DODGE" Crossfire , debate activity is one of the very interactive activities of the fest EXPRESSIONS . The event "Crossfire" aims at improving the communication skills of the participants as well as bolsters their confidence in convincing others.


SENATE  "AUDI ALTERAM PARTEM"
A parliamentary debate in which two  teams  (opposition and ruling party)  discuss an agenda and formulate policy.
BIG FIGHT-  "FIGHT OR FLIGHT"
Big Fight, a Group Discussion activity aims at improving group behaviour of an individual.
MOOT COURT SESSION
Moot court is an activity in which participants take part in simulated court proceedings, usually involving drafting memorials or memoranda and participating in oral argument.
IMAGRAM "INTO YOUR BRAIN"
Imagram is a picture perception testimonial event. The participants are asked questions on the sequence of images.
COLYMPICS "PROVE YOUR METTLE"
The LAN Gaming event , where players compete with each other to prove their gaming skills. The objective of conducting LAN gaming is to generate interest for the participation in the fest.
ADZAP "GET MAD FOR ADS"
In addition to technical knowledge one needs the art to present their ideas in an appealing way. Hence Adzap, it's a variation of the popular business plan presentations which aims at developing market knowledge and skills among the participants and at the same time tests their creativity and presentation prowess.
SPELLATHON
"Cast your Spell"
Spellathon, a spelling competition, is inspired from ESPN's popular 'Spelling Bee'. The event requires the participant to spell out the given word within a given time span. To assist the participant the meanings and pronunciations of the word will be provided using software.

EXPRESSIONS' "Says It All"
This would be a skit competition in which participating teams are competing for the best dramatic skills presented before the judges. The language medium would be English and time duration would be 8-10 minutes.
INFORMAL EVENTS
YOUTH ICON Youth icon is someone who is looked up to by the young mass of a society. ... Previously people used to consider young men and women who sacrificed for the betterment of the society. Today people who have achieved something great in their field of work are considered youth icon.

COER -STREET FOOTBALL
Street Football is a sport that varies a little from traditional football. Whoever thinks street football is just a kid playing against the wall on the street is mistaken.
STREET BATTLE
The All Styles Battle is a 2 vs 2 Battle and is open to all dancers male and female. Each battle will consist of 2 pairs of dancers who will battle one another facing each other. ... During the preliminary rounds, the DJ will play one song for each round.

FLASH – MOB
A large public gathering at which people perform an unusual or seemingly random act and then disperse, typically organized by means of the internet or social media. Treasure hunt, the idea of hunting for hidden treasures has always been exciting and adventurous. In treasure hunt, participants work in small teams to find the treasure with the help of given clues. The team who decodes the clue and finds the treasure first will win the game. The game of treasure hunt comes from the concept of scavenger hunting where participants have to find a number of items from the list provided to them.
SPORTS ACTIVITIES
The sports department of College of Engineering Roorkee provides the students and staff a forum of recreation and a place for maintaining healthy habits. Games and sports contribute a lot in the development of the personality of an individual. For the development of sports culture, tournamnets and competitions are organmized under sports vaganza every year in the college. The main events of the "Vaganza" are inter departmental tournaments and inter-year tournament. COER regularly participates in the tournaments and friendly matches organized in and around Roorkee.
Sports Achievements of the COERians during 2009, 2010 and 2011
COER has been the winner of cricket trophy of Himalayan Institute of Medical Science. COER has also won the trophies of sports of various events of Uttarakhand Technical University, Dehradun. Various sports activities in this year, were organized at Dehradun, Uttarakhand. The award function was graced by the Vice- Chancellor, Uttarakhand Technical University, Dehradun.The COERians in a sweep were champions and won the trophies in Football, Basketball, Cricket, Badminton and Table Tennis.They also received runnersup trophy in Vollyball. COER also participatedin "Spardha-2010" organized by Pantnagar University during September- October 2010 and won Runners Trophy in Basketball, Cricket and Table Tennis. Coer was winner in badminton championship.
Spic Macay
Spic Macay - (Society for Promotion of Indian Classical Music and Culture Amongst Youth) is an international organization whose aim is to resurrect interest of youth for Indian Culture & Classical Music. COER is a center for SPIC MACAY activities under IITR Chapter. SPIC has organized programs of many national & international fame artists in COER to make students aware of rich Indian arts heritage. SPIC MACAY COER has thrived and shall continue to do so in the near future to come, towards its motto – "Vision…Initiation…Innovation…" leaving no nook of its Indian culture being left behind, reflecting upon its "Great Past and A Glorious Future". The saga started with three objectives—VISION, INITIATION ANDINNOVATION. SPIC MACAY is an affirmation of a priceless cultural heritage rooted in what is essentially Indian.
SERIES, BAITHAK, ESSAY WRITING EVENT
SERIES: SPIC MACAY COER has been working in updating students of their diverse culture by regularly displaying its 'Series' weekly, which includes 'Saaz-e-Hind '(Instrument of the Month), 'Jyoti'(Artist of the month)and 'What We Think' . BAITHAK A weekly group discussion session based on Indian culture is organized amongst its volunteers on Thursdays after regular classses. ESSAY WRITING EVENT All India Essay Writing Competition was conducted by Shri Ram Chandra Mission in collaboration with United Nations Information Centre for India and Bhutan at COER campus on the 3rd September, 2015.The topic was "It is not what we look at that matter, but what we see". One student received zonal level certificate and three students got college level certificate.
LECTURE CUM DEMONSTRATION
LECTURE CUM DEMONSTRATION To give an essence of our prestigious Indian culture to today's young minds, Padmashree Ranjana Gauhar ji gave a lecture-cum-demonstration on Odissi Dance on the 14th September, 2015 along with four other artists The students had a healthy interaction with the artists, giving them a new prospect towards the rich culture.
INTELLIGENTSIA, NUKKAD NAATAKA
INTELLIGENTSIA 'Intelligentsia 2016 – Quest for your Identity' on 17-18 Feb.2015 was organized . It was conducted in two rounds – The written 'Questionnaire' round and the 'Audio-Visual' round. NUKKAD NAATAKA with theme 'Incredible India' – a sarcasm to the present scenario of our Bimar Bharat was organized a on October 15th, 2015. The event was successfully carried out with high appraisal from COER
Faculty and Students.
Spic MACAY COER performed a Nukkad Natak in the college campus, near the parking area on 15 th September 2017. The topic for the Nukkad Natak was 'aaj ka raavan' (evils of today's society).The focus of the theme was about how, many factors often hamper the descision making capacity of today's people, and often try to shape their opinions in a way, they want them to perceive. The play focused on the factors, such as the societal pressure, peer pressure, in the minds of college going students that often forces the children not to hear, their own heart, , media which has become a new tool, to influence people, and the social media, making people focus more on their virtual Life, rather than their real lives. Theese factors are becoming more and more dangerous day by day, and thus becoming the new 'Raavan' of today's world.
The play was highly appreciated and enjoyed by the croud present there. Director Coer SM, Maj. Gen. OP Soni, faculty convenors of SPIC MACAY COER Mrs. Anuradha, Dr. PS Kulkarni and other faculty members were present at the event, and appreciated the theme, and presentation by the volunteers.
KIE POCHE, MUKHAUTA, ALANKAR
KIE POCHE: The Kite Flying Competition Kie Poche is the most awaited event of Spic Macay Coer. Kie Poche 2016 was scheduled on the 19th FebThe theme of the event was "Sanskritic Rangmanch" – Performing and Visual Arts of India. The aim of the theme was to acknowledge every one of the wide cultural heritage of all the Indian states. The kite flying event had a total registration of 40 teams (consisting of two members each). MUKHAUTA: The Mask Making CompetitionThe event 'Mukhauta' was held on Feb. 17th, 2016.. A total of ten students' team participated in the traditional art competition. The themes were True Gamer, Level God,Against Society's Hypocrisy,Carnivals and Festivals.
ECO CLUB: A Mission Towards Sustainable Engineering
VISION: PROMOTING STUDENT COMMUNITY TO BE A PART OF SOLUTION NOT POLLUTION."Like music and art, love of nature is a common language that can transcend political or social boundaries." Eco-Club, College Of Engineering Roorkee was established in 2009, under the supervision of Dr. Romesh Kumar Sharma. The club was formed with the aim of making the students aware of environmental issues and their duties towards the nature.Eco-club is a group of like-minded people and we focus on generating interest about resource conservation, sustainable development and other environmental issues among the student community.
Artificial bird nests
ECO CLUB ran a campaign in the COER campus to install artificial bird nests all over the campus to make it more environments friendly.
Dustbin Drive
The club carried out a Dustbin Drive with the object of having a 'green campus – clean campus. The club has been organizing several events in the campus since last 5 years. The aim of conducting these events is to make the students aware of their duties towards the nature. The club celebrates various environment related days in the college.
Ganga Cleaning Mission
The club played a prominent role in the Ganga Cleaning Mission in the years 2010, 2013 ,2014 and 2015.
Haritima
The club organizes its annual festival HARITIMA with the aim to involve students in real time solution to environmental issues. Cleanliness drive in the surrounding areas of the college
PETA
Conducts a Workshop by PETA(People for The Ethical Treatment of Animals)- India annually.
NATURATHON
Conducts NATURATHON- A Nature themed Marathon event.
COER AERO CLUB (CAC)
COER AERO CLUB (CAC) is an aviation club of COER. It works in the field of design and aviation by making Remote Controlled (RC) planes and multirotors etc. The club was formed by student of batch 2011-15, Mr. Varun Joshi (ME Branch) with the help of Mr. Varun Pratap Singh, Assistant Professor (ME Branch) in 2015. Mr. Varun Pratap Singh Assistant Professor (ME Branch) is convener of the club and Karan Pratap Singh (EN-IV) is a student coordinator of Club. The main Object of this club is enhancing the students towards the aviation science and provides them well knowledge about RC planes, Multirotors & Gliders etc.The club members have participated in many competition and workshops like IIT Roorkee Techfest, IIT Kanpur Techfest, IIT Kharagpur Techfest and BOEING Workshop in last 3 years and Varun Joshi (ME-branch) (2011-15 batch) got 1st position in RC flying competition in IIT Roorkee Techfest in 2015.Now the Club is enhancing the students towards the aviation science and new technology of it. The major annual events of club are to conduct workshop on making Gliders and RC planes with integration of renowned clubs and institutes of this field. CAC having standardized lecture series, tutorials and formats of training for new comers, where students can groom their thoughts for aviation by making RC plans and Drons. CAC also having focused in the field of R&D activity to find out the gap for further work so our team members can make major projects for either industry or R&D institutions. CAC is also planning to run the Joint training program with other academic and research institution by collaborating with one or two renowned national clubs. The vision of club is that, in future club will work in the field of research by making major project which can use by defense and other industries, who are looking for their RC plane/ Dron solution (like RC Plane which can lift 2.5 kg weight ffor30 minutes, RC plane for topographic survey and RC plane for construction activities) and start research publication.
Karuna Club
Karuna International is a registered nonprofit service organization working to inculcate and develop human values in young students. It is proud to announce that Karuna Club ,COER Roorkee, is the first club in Uttarakhand. It aims to promotes Compassion, Kindness, Love and Respect for all the living beings and environment. It also promotes Animal Welfare, Vegetarianism and Human Values among the Student Community. The Karuna values that we inculcate in students are: Universal brotherhood (Maitry), Respect for virtuous people (Pramod), Compassion (Karuna) , Respect for all religions (Madhyastha Bhav).
Karuna Club organized the following activities:
Inauguration ceremony of Karuna Club was held in the esteemed campus of COER on the 65th Republic day i.e. 26-01-2014. Mr. Bharat Parihar, the representative of Karuna International, Chennai conducted the Oath Ceremony. The following members have taken the Oath.Mrs. Sunita Jain - Chief PatronMrs. Charu Jain - PatronDr. V.K. Jain - PresidentDr. Karuna Jain - SecretoryDr. Sidharth Jain - Joint SecretoryDr. Ravindra Saini- TreasurerDr. Vishal singhal-Special Committee member2. Workshop on Vegetarianism and Non vegetarianism: Is Your choice for the Students of College of Engineering Roorkee on 27 January, 2014. Mr Bharat Parihar dealt the salient features of vegetarianism with the recent facts about the no. of slaughter houses and how the total no. of animal's death has increased since 20th century.3. A training programme on Stress Management for the Students and Faculty members has been conducted in the College of Engineering Roorkee on Thursday , March 6, 2014. A power point presentation was made by Mr. Ankur Mehta Faculty at Dev Sanskriti Vishwavidhalaya Haridwar and associated with International cell, Shantikunj and Mr. Ashish Singh working with AWGP at Shantikunj Haridwar.4. An Industrial visit was organized on Friday , March 14, 2014 to Shanti Kunj , Haridwar , Students and Faculty Members learnt how efficiently cow dung and its urine can be utilized for medicinal purpose and the techniques of Waste Management .
SAEINDIA-COER is a registered collegiate club and a strategic alliance partner of SAE International, India .This is a non-profit engineering and scientific society dedicated to the advancement of mobility industry in India
. The club is set up to nurture and showcase the talents of young Engineers in the field of automobiles. Student members of SAE-COER make different types of test vehicles to participate  in the national level competitions. Some of the events are listed below.
BAJA – 2013
'BAJA' (BAHA) is a national level event which is organized by the Society of Automotive Engineers, India (SAE INDIA). Each team's goal is to design and build a prototype of a rugged single seat; off-road recreation four wheeled 'All-Terrain Vehicle'. It should be able to negotiate rough terrain in all type of weather without damage. Due to the hard work and dedication of the students, the college was selected among the top 120 teams for the finals. This was a moment of joy and success for team 'Zephyr' as they got the chance to fabricate the ATV. The team went for the finals and the ATV got the chance of off-roading in NATTRIP Indore ranked 80 among top 120 teams.

 SAE STUDENT CONVENTION -2014
SAEINDIA student convention (Northern India Section) was held at Graphic Era University, Dehradun on 22
nd
November, 2014. Our college bagged the 1
st
position in the Collegiate Club Presentation. Our team also achieved second position in the automotive quiz competing against UPES, Graphic era university and others.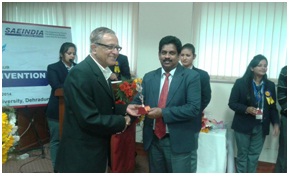 EFFICYCLE -2015
SAENIS in a similar endeavour presented  a new milestone in the realm of 'Green Technology' - SAE EffiCycle. Efficycle is an intercollegiate design competition for undergraduate and graduate engineering students where teams had to design and fabricate energy efficient hybrid-human powered- three wheeled-electric vehicles.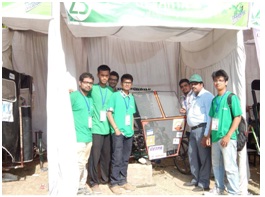 EFFI-CAR -NATIONAL CHAMPION
SAE-COER participated in the EFFICAR-2016 Competition held at Punjab University , Chandigarh and grabbed the overall national  championship.
ECO-KART 2017

SAE-COER participated in the ECO-KART 2017 Competition held at B M Mujal University, Manesar.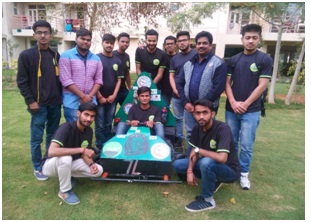 GO- KART -2018 (SAE-COER WON THE FIRST PRIZE IN GO-KART ENDURANCE TEST AT LPU, PUNJAB)
International Go-Kart Championship is a student challenge with a mission of training students with technical knowledge of manufacturing a go-kart. Twenty student members of SAEINDIA-COER participated in this event during 23-26, March 2018 and won the first prize in the most difficult   Endurance Test.

NEKC -2.0, Bhopal (NATIONAL ELECRIC KART CHAMPIONSHIP)
The students of SAE-COER cleared the virtual round of National E Kart competition season 2 with an outstanding score of AIR-4. A team of 20 students participated in this national level competition, which was held during 25-30 March 2019 at RGVP, Bhopal.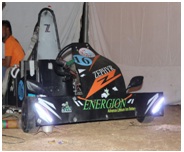 INTERNATIONAL GO-KART 2020 AT LPU , PUNJAB
SAE-COER team Zephyr is participating in an electric kart event organized at Lovely Professional University, Punjab in the month of June 2020. The team has already cleared the virtual round and has   registered for the main event. This test vehicle to be propelled with Lithium -Ion battery is already fabricated by the students and is in the final stage of completion.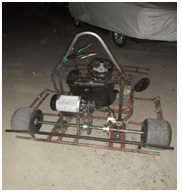 Committee structure
| | |
| --- | --- |
| Name  | Designation |
| Thomas Mathew (Asstt.Prof-ME) | Chief  coordinator |
| Anuradha Singh(Asstt.Prof -EN) | Additional coordinator |
| Karan Tiwari | Student Chair person |
| Gokul Rana | Vice Chair Person |
| Harsh Pratap Saini | Secretary |
| Tushar Rajput | Treasurer |
| Suraj Sanjay Singh | Reception Chair |
| Paras Panwar | Program Chair |
| Abhishek Kumar | Publicity Chair |
| Rahul Dhiman | Membership Chair |
About Earn While You Learn:
Earn While You Learn (the Coding Club of college of Engineering Roorkee) encourage students to take up coding as their hobby and improve their skills for a better future. Earn While You While is the new club of College of Engineering Roorkee which is inculcate the coding culture and invoke the zest of research in the minds of student so that they can find their field of interest.
Earn While You Learn has external support for the online platforms which will be free of cost. Earn While You Learn organize various events like seminars by some influential icons, Quiz Event, Gaming Event, Website and App development competition and Coding event.
Earn While You While was initiated under the efficient guidance of the Mentor Mr. Kshitij jain (Assistant Professor, CSE Department) .
Coordinators :-
Anant Tyagi
Vishu Dahiya
Vansh
Shobhit Garg
Rohan Chaudhary
Aim and Objective:
To engage students in programming in a fun way so that we and they, both can learn.
Students will be enhancing their skills which are trending in current MNC's.
To promote research culture in the college.
To organize different seminars by influential icons.
To provide a common platform to all the students of our college to showcase their programming skills.
To provide a student with in-depth knowledge about different programming languages.
Students will achieve badges, trips according to their performance.
The main aim of our Earn While You Learn is to "Learn by Exploring"
Events:
Logo Making Competition
Online Quiz Competition
Trip To Vaishno Devi
Poster Making Competition
About Coding Geeks:
In today's rapidly changing environment, programming skills are essential tools that can be utilized and incorporated into various fields and domains. Hence, it becomes absolutely essential to equip young minds with such skills. Coding Club aims to establish a coding culture on campus, reaching every student passionate about coding.
Coding Geeks (the Coding Club of college of Engineering Roorkee) encourage students to take up coding as their hobby and improve their skills for a better future. Coding geeks is a new club of College of Engineering Roorkee to inculcate a coding culture and invoke the zest of research in the minds of student so that they can find their field of interest. The club conducts a college wide coding competition every year to recruit the students who are passionate about coding. The competition not only focuses on coding but also on logical, analytical and problem solving skills. The club meets every week to discuss and work on projects. All the members collaborate to achieve a common objective. Lecture sessions are also organized for the benefit of members, where some concepts of computer science are taught . Workshop and technical talks on various competitions and concepts of computer science are conducted through the club. The club also organizes talks/sessions by seniors and alumni about internship and placement preparation.
Coding Geeks was initiated under the efficient guidance of the Mentor Mr. Kshitij jain (Assistant Professor, CSE Department) and Student Coordinators: Ashutosh Vaish (CSE Batch 2019-2023), Sagar Jain (CSE Batch 2019-2023).
Aim :
To engage students in programming in a fun way so that we and they, both can learn.
To promote research culture in the college.
To organize different seminars by influential icons.
To provide a common platform to all the students of our college to showcase their programming skills.
To prepare students for placements.
Take part in competitions like ACM-ICPC, Google Code Jam, Google Summer of Code, and other online coding events
To provide a student with in-depth knowledge about different programming languages.
Represent the college at inter-collegiate events The main aim of our Coding Geeks is to "Learn by Exploring"
Events till now:
Coding Enigma: Coding Enigma was a quiz-based competition aim to check the knowledge about the coding of students.
Virtual Warriors: Virtual Warriors was a online Gaming event for students.
Game of Inquest: Game of Inquest is the online quiz-based competition which was held on Kahoot to check the knowledge about the coding of students.
Webinars: Coding Geeks has conducted many webinars during academic year on various topics and upcoming technology by influential icons so, that students have knowledge about new things and technology.
Outcomes:
Coding Club helps members gain in-depth knowledge of coding. This helps them immensely during placements and can also bring laurels to the institution through various national and international programming contests.
The club helps members develop an aptitude for logical thinking and visualizing a problem from various perspectives and creating multiple innovative solutions.
The country as a whole requires a lot more coders for it to achieve the goal of a 'Digital India'. The club is doing its bit to help the country pursue this goal.
About GDC
The GDC emphasises on overall development in the field of game development, IoT . GDC was initiated under the efficient guidance of the Mentor Mr. Kshitij jain (Assistant Professor, CSE Department).The committee members will be able to learn the following skills:
The basics of Unity and Unreal Engine and use of various tools in it.
Building an environment and terrain development.
Building assets, asset management and adding functionality to them.
Programming in Unity and Unreal Engine.
Switching platforms between Android and Windows.
Interactive gaming challenges to enhance the creativity and efficiency skills.
Making use of UI in Android and Windows.
Benefits of learning Game Development :
The following are the benefits for those who learn game development and are proficient in it:
Use your creative and analytical skills
Working in an enthusiastic and casual environment.
Enjoy a steady career in a dynamic industry
Earn a competitive salary.
Make a career out of helping people have fun.
Events:
Game Challenges
Level Design Challenges
Time Based Events
Game Based Quiz
The committee currently consists of three members:
Co-ordinators
Dev Pratap Singh ( IT-D [2019-2023])
Vishal Tomar ( IT-D [2019-2023])
Co-Co-ordinators
Uttam Agarwal (IT-D [2019-2023])
And has completed 2 projects for which links are provided below:
Voice Control Game
https://github.com/Vishal1711Tomar/Voice-Control-Game.git
BlockRunVMUV
https://github.com/Vishal1711Tomar/BlockRunVMUV.git