First Year Labs
BASICS OF CIVIL ENGINEERING AND MECHANICS LAB
COURSE OBJECTIVE:
To understand the procedure of doing different tests like hardness, compression, torsion, tension and impact etc in various materials.
To provide the students an illustration of the significance of the civil engineering profession satisfying societal needs.
To impart knowledge about the testing of springs and beams and behavior of materials.
COURSE OUTCOMES:
On successful completion of the course, the student will be able to
Understand the essentials of civil engineering field to the students of all branches.
Perform basic surveying for making horizontal and vertical measurements.
Perform the tests for various building materials like cement, concrete, bricks and stones.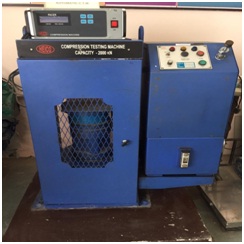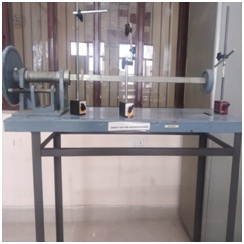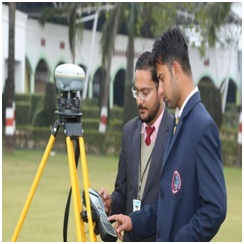 Second Year Labs
Fluid Mechanics Lab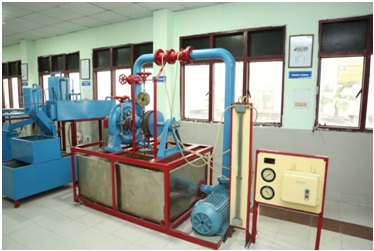 The fluid mechanics laboratory has all the equipments to carry out fluid related experiments such calculation of metacentric height, justification of Bernoulli's theorem, diffusion of submerged air jet, verifying momentum equation, coefficient of discharge, velocity and the coefficient of contraction of an orifice and venturi meter, calibration of orifice meter etc
Lab Objectives
To understand the flow measurement in a pipe flow
To determine the energy loss in pipe flow
To study the characteristics of turbines
To study the characteristics of pumps
To measure the discharge in a open channel flow
---
Surveying Lab
The Surveying Laboratory is equipped with the instruments and tools that students use throughout the surveying course. Students learn techniques for gathering field data with both traditional and modern instruments. They also study different types of topographical maps and prepare conventional symbols chart. The students are divided in lab groups of three students in each group and have dedicated set of each instrument such as auto level, theodolite, tape measures, chaining pins, total station and other common surveying tools and to use.
List of instruments of survey lab
Metric Chain20m
Linear measuring Tape 30 m
Prismatic Compass with Tripod
Vernier Theodolite with Tripod
Micro-optic Theodolite with tripod
Tilting Level with tripod
Auto level with tripod
Plane table with accessories and tripod
NIKON DTM362 Total station with tripod , prism prism-pole and bipod
FOIF Table station with tripod , prism prism-pole and bipod
Trimble R8-S DGPS with controller tripod and bipod
Tracing Table
Garmin handheld GPS with internal camera & storage
Lab Objectives
Appreciate the need for accurate and thorough note taking in field work to serve as a legal record.
To provide insight into modern surveying instruments and techniques
To allow students to learn techniques for gathering field data.
Gain the ability to use modern survey equipment to measure angles and distances
---
Building Planning & Architecture Lab
This laboratory has total 40 computer systems with recent version of AutoCAD installed in them. The students are taught to draft symbols used in civil engineering drawing, masonry bonds, doors, windows and staircases, plumbing & electrical fitting drawing, Drawings for services and interiors of buildings and comprehensive drawing of residential building using AutoCAD software.
Lab Objectives
Objective of this course to teach students the basic commands and tools necessary for 2d and 3d models
Lab Outcomes
Students learn how to operate AutoCAD and transform sketches and technical data into electronic drawings.
Gain the ability to produce an Auto Cad drawing from a field trip to collect data and produce an electronic drawing that is graded by a board consisting of the client and professional engineers.
Strength of Material Laboratory
Purpose of this lab is to provide facilities to conduct various tests to calculate properties of the steel specimens. Since steel of various grades is used as main reinforcement material in most of the structures, so knowledge gained in this lab is imperative for proper understanding of the advance courses on design of steel/concrete structures. This lab is being upgraded with the addition of the latest range of digital testing equipment.
List of Machinery & Equipments
Universal Testing Machine
Universal Impact Testing
Spring Stiffness setup
Vicker's Hardness Testing machine
Torsion testing machine
Model of cantilever beam & strain indicator
Lab Objectives
To understand the procedure of doing different tests like hardness, compression, torsion, tension and impact etc in various materials
To impart knowledge about the testing of springs and beams and behavior of materials.
Lab Outcomes
On successful completion of the course, the student will be able to
Describe the behavior of materials upon normal external loads
Predict the behavior of the material under impact conditions.
Recognize the mechanical behavior of materials.
---
Hydraulics & Hydraulic Machine Lab
The purpose of this laboratory is to enhance and reinforce the understanding of fundamentals of Hydraulic machines. This laboratory is equipped with all instruments and facilities to study hydraulics related problems. The experiments carried out here are designed to demonstrate the applications of the basic hydraulics principles and to provide a more intuitive and physical understanding of the theory.
Lab Outcomes
Analyze a variety of practical fluid-flow devices and utilize fluid mechanics principles in design.
Given the required flow rate and pressure rise, select the proper pump to optimize the pumping efficiency.
---
Concrete Lab
This lab allows students to carry various testing regarding concrete such as workability, compressive strength, tensile strength, design mix, modulus of rupture as per Indian Standard recommendation guidelines. These tests are carried out to illustrate the basic properties and methods of testing of cement, aggregates, paste, mortar, and concrete.
Lab Objectives
To understand the properties of ingredients in concrete.
Understand the behavior of fresh and hardened concrete.
To learn about the concrete design mix
Understand the durability requirements of concrete
List of Machinery & Equipments
Vicat apparatus
Mixing apparatus for mortar
Automatic compression testing machine
Blain's Air permeability apparatus
Le – Chatelier mould
Le – Chatelier flask
Temperature controller water bath
Tensile strength tester
Compaction factor apparatus
Slump test apparatus
Vibrating table
Gauging trowel
Measuring jar
Weighing balance
Moulds
Universal testing machine
Briquette mould
Tamping rod
Laboratory Concrete Mixer ( Motorized )
Flexure Testing Machine
Third Year Labs
Structural Analysis Lab
Structural analysis laboratory aims at observing the mechanical behaviors of structural system in the engineering domain. It gives students a great exposure for understanding the theoretical and practical concepts of structural analysis. This lab is unique of its kind, because, it houses testing facilities for various structural members both determinate and indeterminate. The laboratory hosts several loading apparatus like Pin-Jointed Truss Model, Coupled Beam, Unsymmetrical Bending, Two Hinged and Three Hinged Arches and many more. The laboratory gives a much better understanding of the behavior of different structures when loaded with various kinds of loading conditions. This course mainly deals with the evaluation of internal forces, moments and corresponding stresses in structures through problem-solving sessions and laboratory activities. This knowledge can be applied to a real-life design project, developing skills in the design of structures to satisfy functional and strength requirements.
Major Equipments
Cantilever beam with unsymmetrical bending
Elastically coupled beam apparatus
Fixed beam model
Pin-jointed truss model (Deflection of truss apparatus)
Simply supported beam with equal overhangs (Elastic properties of deflected beam apparatus)
Simply supported beam with single overhang
Three bar suspension system (Redundant joint apparatus)
Three hinged arch model
Two hinged arch model
Lab Objectives
To demonstrate and investigate experimentally the behavior of structural elements.
To properly illustrate the structural behavior of structural members to destruction.
To compute the internal and external forces by the application of loads to make structure safe
To compute the deflections of structures by external loading.
To analyze statically determinate and indeterminate structures.
Lab Outcomes
Distinguish between statically determinate and indeterminate structures.
Apply equations of equilibrium to structures and compute the reactions.
Draw the shearing force and bending moment diagrams.
Calculate the internal forces in arch type structures.
Calculate the deflections of truss structures, beams, and portal frames.
---
Soil Mechanics Lab
The objective of Soil Mechanics Laboratory is to check the basic properties of soil of a certain area that is to be used for Construction purpose. In this Lab student gain hands-on experience in conducting soil testing and obtained results like Atterberg's limits, Bearing Capacity, Moisture Content, Shear Strength etc.
Lab Objectives
To explain how three phase system is used in soil and how are soil properties estimated using three phase system.
To explain role of water in soil behavior and how soil stresses, permeability and quantity of seepage including flow net are estimated
To determine shear parameters and stress changes in soil due to foundation loads.
To estimate the magnitude and time-rate of settlement due to consolidation.
Lab Equipments
Hot Air Oven
Sieve Shaker
Shaking Table
Direct Shear Apparatus
UCS Test Apparatus
Core Cutter
Permeability Test
Consolidation Test
Liquid Limit Apparatus
Plastic Limit Apparatus
Shrinkage Limit Apparatus
High Speed Stirrer
---
Environmental Lab
The Environmental Engineering Laboratory mainly deals with the determination of physio-chemical and bacteriological properties of water. The Laboratory has testing equipments to carry out tests such as determination of turbidity, colour, conductivity, pH, alkalinity and acidity, hardness and chlorides, dissolved oxygen in water. Environmental engineering lab in the Civil engineering department has equipments like digital pH meter, Conductivity meter, Nephelometer, BOD incubator, COD Reactor system, Dissolve Oxygen meter, Spectrophotometer and other chemicals and reagents to be used in performing the experiments.
Lab Objectives
To understand the basic characteristics of water and its determination physio-chemical and bacteriological properties.
To provide adequate knowledge about the water treatment processes and its design
To have adequate knowledge on operation and maintenance of water supply.
---
Transportation Lab
The Transportation Engineering laboratory is equipped with equipment for conducting field and laboratory tests on Subgrade, Aggregates, Bituminous Materials and Bituminous Mixes. Coarse Aggregates form the major part of the pavement structure and this is the prime material used in pavement construction. Bitumen is a petroleum product used in pavement construction works. This lab primarily deals with basic tests of Coarse Aggregates and Bitumen.
Major Equipments
Aggregate crushing value apparatus
Aggregate Impact test apparatus
Ductility testing machine
Cleveland Flash and Fire Point apparatus
Film stripping device (electrically operated)
California Bearing Ratio Apparatus
Los Angeles Abrasion Testing Machine
Marshall Apparatus (Electrically Operated)
Ring and Ball Apparatus
Standard Tar Viscometer (Electrically heated)
Universal Penetrometers
Lab Objective
To enable students to conduct test on soil subgrade
To introduce Bitumen and & its engineering behavior.
To introduce Aggregate & its engineering behavior.
To perform mix design of bituminous mix
Lab Outcomes
Characterize the pavement materials
Understand the principles of construction and maintenance of highways
Perform quality control tests on pavements and pavement materials
Identify engineering properties of aggregate.
Identify the grade & properties of bitumen.
Fourth Year Lab
CAD Lab
A well-equipped computer laboratory with advanced facilities is established for the benefit of the Civil Engineering students. Advanced civil engineering softwares are procured for making the students globally competitive and industry ready. At CAD lab, students get professional training on 2D & 3D drafting of Civil Engineering drawings and also learn modelling and simulation of buildings using different softwares. This laboratory has a total of 40 computer systems with recent version of softwares installed in them.
Name of Softwares
| Software Name | Purpose | Quantity |
| --- | --- | --- |
| Autocad | Drafting | 40 |
| Staad Pro V8i | Structural Analysis & Design | 15 |
| SAP 2000 | Structural Analysis & Design | 05 |
---
Project
Project comes in the curriculum of final year Civil Engineering Students which covers a huge weightage of 500 marks. In this students are allowed to choose any of the field they studied till third year and prepare a project which is also part of academic curriculum. Students prepare Models and Posters based on these projects which are evaluated time to time internally by panel of the department and finally being evaluated by external examiner. This helps the student to have a wide approach on all the recent topics booming in Civil Engineering and enhance their knowledge about them.
Last Five Year Best Projects
THE ZOT CITY - A TOWNSHIP PLANNING AND DESIGNING PROJECT
IMPROVEMENT OF INDEX PROPERTIES OF THE ORGANIC SOIL BY CHEMICAL STABILISATION
GIS BASED CATCHMENT IDENTIFICATION IN PITHORAGARH REGION, UTTARAKHAND
STUDY OF SEWAGE TREATMENT PLANT NEAR KHANJARPUR ROAD ROORKEE
MANUFACTURING RIGID BOARD BY PACKAGING WASTE CONTAINING ALUMINA AND POLYTHENE
GROUND WATER POTENTIAL ASSESMENT CASE STUDY: HARIDWAR CITY, UTTARAKHAND
DESIGN OF HOSTEL BUILDING PATANJALI UNIVERSITY
HYDRAULIC TRANSIENT ANALYSIS OF HYDROPOWER PLANT
LOW ENERGY AND PASSIVE BUILDINGS
DESIGN OF COLLEGE HOSTEL AS A GREEN BUILDING
EFFICIENT DESIGN OF DRAINAGE AND RAIN WATER HARVESTING SYSTEM OF COER CAMPUS
ANALYSIS AND DESIGNING OF PEDESTRAIN BRIDGE
DESIGN OF ROAD SIDE DRAINAGE
DETAILED ANALYSIS AND REMEDIAL MEASURES FOR THE PROBLEMS FACED BY ALAKNANDA DAM
DESIGN OF FLEXIBLE PAVEMENT OF NATIONAL HIGHWAY NEAR COLLEGE OF ENGINEERING ROORKEE
---
Industrial Interaction
Industrial Interaction is a practical added in the curriculum of final year Civil Engineering students. The students during the break after third year do an industrial training where they practically gain knowledge of what real Civil Engineering is. After that the students make a report of what they learnt and submit a valid certificate issued from the training department. The report is being analyzed by both internal and external examiners and evaluation is done accordingly.
List of Company for Industrial Training & Visits
ANNADI GROUP OF CONSTRUCTION
BHEL
BIRLA DEVELOPERS PVT LTD
BMW BIRD AUTOMOTIVE
BRIDGEON INDIA
CBRI
CPWD AGARTALA
DELHI AIRPORT AUTHORITY OF INDIA
ELECTROSTEELS LTD
GDCL CO. LTD.
GLOBE CIVIL PROJECT PVT LTD
HCC CONSTRUCTION
INDIAN RAILWAY
INDRAPRASTHA POWER GENERATION CO. LTD.
IRRIGATION DEPARTMENT
KEC INTT LTD./ERCON
KERALA CADD CENTRE
MILITARY ENGINEERING SERVICE
NHAI
NHPC
PWD
RAMKUMAR CONTRACTOR
THDCL
WATERWAYS DIVISION
CETPA